Send us your
2006
reunion photos

• Identify all photos and
supply ancestor's name.

Email:
kay@robertsharrisreunion.org

Mail:

Kay Borden
3761 Vinyard Trace NE
Marietta, GA 30062-5227

• Clear, sharp closeup copies of your original photos are best. Include a self-addressed stamped envelop if you would like them returned.

Thanks to Joe Davis, G.A. Parsons, Bette Kirksey and Patsy Roberts Burton for identifying some of the following photos.
---
July 29, 2006, Hueytown Community Center, Hueytown, Alabama
Tokie & A.C. Roberts
T.Z. Stringfellow, Lee Roberts
Bette Kirksey
Myrtle Roberts Hartley, Marie Roberts
Front row L-R Alesia Roberts, Anabel Roberts, Karen Hogelin Sullivan, Debra S.Davis and Nancy Roberts Hogelin. Back Row L-R Chip Roberts, Joe Davis, Eloise Roberts Davis and Richard Hogelin.
Twyla Turner Cummins, Mona Franklin McCrary
Hazel & Huel "Peachie" Franklin
Bonnie Kirksey, Debbie Kirksey
Kelly Marie Burton and daughter Kasey Burton Hicks. Kelly Marie Burton is the daughter of Patsy Roberts Burton and grand daughter of Lehman Roberts, son of Arthur Roberts.

Caryl Franklin Sarrett, Huel "Peachie" Franklin, Hazel Franklin
Caryl Franklin Sarrett, Huel "Peachie" Franklin, Olera Franklin Turner
A.C. Roberts, Olera Franklin Turner
Tom Borden, Caryl Franklin Sarrett, Kay Sarrett Borden
Lois Turner Stephens, Twyla Turner Cummins, Mona Franklin McCrary, Mary Turner Walker, Kay Sarrett Borden

---

Allison Roberts






Descendants of Allison Roberts

Front Row L-R: Richard Hogelin, Nancy Roberts Hogelin, Joe Davis, Eloise Roberts Davis

Back Row L-R: Karen Hogelin Sullivan, Debra S. Davis Chip Boberts, Alesia Roberts and Anabel Roberts

---

Arthur Brady Roberts



Descendants of Arthur Roberts

Front Row L-R: Randy Greer, Fred Greer, Bette Kirksey, Robert Kirksey

Back Row L-R: Janice Greer, Bonnie Kirksey

---

Marvin Cloris Roberts



Descendants of Marvin Roberts

Lee Roberts, A.C. Roberts, Tokie Roberts, Myrtle Roberts Hartley, Marie Roberts

---

Myrtis Daisy Roberts Franklin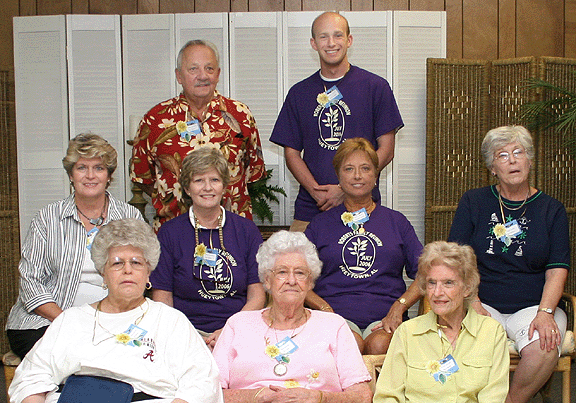 Descendants of Daisy Roberts Franklin
Front Row L-R: Mary Turner Walker, Olera Franklin Turner, Caryl Franklin Sarrett
Second Row L-R: Twyla Turner Cummins, Kay Sarrett Borden, Mona Franklin McCrary, Lois Turner Stephens
Back Row L-R: Tom Borden, Jonathan McCrary